4 Basic Styles of Personalized Wedding Hangers
A wedding dress hanger, which most people abbriviate to wedding hanger, has become a must-have-item for a wedding. No one could recall when people started using it, but every wedding is looking for at least one of it and it has been a hot gift idea for bridal showers.
Here, I am introducing some basic styles.
Basically, in the wedding market, there are 6 styles of wedding hangers:
1) A hanger with bride name bent with metal wire
2) A hanger with bride name made of wood
3) A hanger with bride name made of metal board
4) A hanger with bride name made of acrylic
Let's talk about them one by one now
Wire name wedding hanger, which has been super popular now, should be the firstly invented one with personal information on. People bend a piece of aluminun wire into the bride's name and hang it on the wood hanger. The name is purely handmade so many people choose to DIY it. That's fun but when you could get a professionally made one from us at a low cost, why bother?
A wedding hanger with bride name made of wood. Bridenew invented this new style and gained a lot of "Wow" from customers. A lot of fonts,colors and decorations could be used in this style so it's really a breakthrough to the market of wedding dress hangers.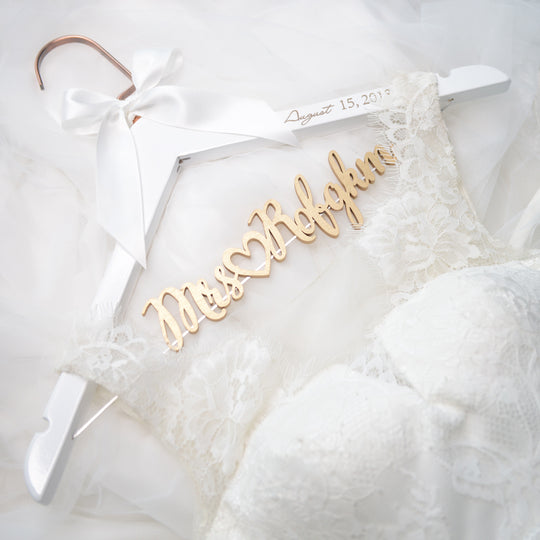 A weddng hanger with bride name made of metal board. This style was created by Bridenew in winter of 2014. We cut the 1mm thick aluminum board into a bridal name and fix it on a wood hanger. Comparing with a wire name hanger or wood name wedding hanger, this style is much stronger and looks neat and rustic.
Based on a metal name wedding hanger, with the thoughts to make the name with some nice colors to match different color tones of weddings, we created wedding dress hangers with the bride names made of acrylic. There are many colors for acrylic so this provides brides a really wide range of choices.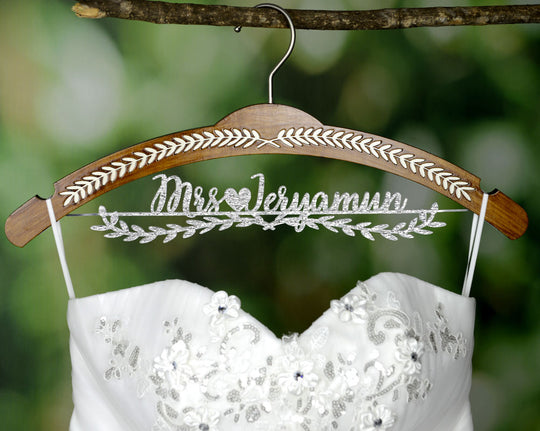 Bridenew is commited to bringing new ideas to wedding hanger designs and workmanship. And, we do more than wedding hangers.  There is no ending to it because all brides want to be different and unique.
Have intrest or suggestions? Please visite our home page  or click here to send us a message.